Event Ticket Printing in Manchester
We can print custom event tickets for your upcoming Manchester event.
Manchester Event Promotors
Find out why event promoters from Manchester and around the UK are using our ticket printing services.
Event Tickets for top venues in Manchester
We've printed tickets for many different events in venues in and around Manchester, including NQ LIVE, and more.

Lower prices
Have a look around and you'll find that our tickets are typically cheap compared to other ticket printing companies.
---
Perforated and Numbered Tickets
We are quick, reliable and providing you with quality perforated and numbered tickets for your special event.
Easy Online Ordering.
Ordering tickets with us is simple. Ordering tickets online only takes a couple of minutes.
Quality Tickets.
Printed on 180gsm stock, that is equivalent to thin card. We believe our tickets are the best looking available. We take care over the layout and design of each individual ticket.
Tickets printed for all types of events in Manchester
Our client's events have varied from club nights, comedy evenings and award ceremonies to gigs, catwalk fashion shows, film nights and charity galas, what tickets can we print for you?
Michael Buble and Robbie Williams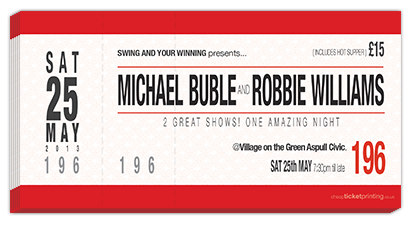 2 great shows! one amazing night
Village on the Green Aspull Civic.
25th May 2013 7:30 til late
New Luna (Opinionated Single Launch)
+ Guests
Soup Kitchen, Manchester, M1 1DF
24.10.17 Doors 7.30pm
BROKEN MOVIE
Theatrical Screening
The Essence Studio. 2 Sawley Road. Miles Plattings. Manchester M40 8BB
Friday 27th - Sunday 29th October 2017. Fri. 4pm & 7pm; Sat. 12, 3, 6, & 9pm; Sunday 4pm & 7pm
Clouds Harp Quartet
St. Ann's Church, Manchester
Tuesday 19th April 19:30
Assorted
St. Ann's Church, Manchester
Apr-Aug 19:30
An Empire Will Fall
+ Awaking Athena, Worldeater and Damnosus
Aatma, 1st Floor, 14-16 Faraday St Manchester M1 1BE
Friday 5th Febuary 2016 Doors - 7pm
Laff Til Ya Fart !
Manchester's Original & Best Black Comedy Club
The Frog & Bucket Comedy Club, 102 Oldham St, Manchester, M4 1LJ
Unallocated seating ~ Doors open 7pm ~ Show starts at 8pm
Super Bowl 50
Come watch the Super Bowl with the Titans.
Manchester Bierkeller, The Printworks.
Sunday 7th February 2016 21:00 - Late.
ALL WHITE DECEMBER TO REMEMBER PARTY
#D2R 2015
MANCHESTER CENTRAL HALL, M1 1JQ
SAT 19TH DECEMBER, 2015 9PM TILL LATE
FAUX BASEMENT presents AUDIOWHORES
Plus residents.....
Gorilla Manchester
Friday 18th December 10.30pm to 4am
Caged Movie Premiere
In celebration of HPGM's 10th Year Anniversary
Showcasecinema.Hyde Rd, Manchester M12 5AL
Saturday 5th December 2015 5.30pm
CHRIS N KEN
SUPPORT - GREG ROYLE
CLUB 147 260 MANCHESTER ROAD, LINNYSHAW, WALKDEN, M28 3TR
BOXING DAY NIGHT 26/12/15 7.00 pm doors close 10.00pm
VIBRATIONS - KRAAK SPECIAL
KRAAK MANCHESTER M1 1DB
Thursday 17th September 11pm - 4am
We've printed tickets for events in venues in Manchester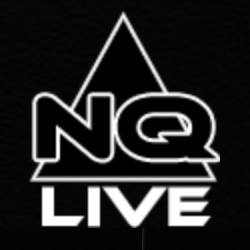 NQ LIVE
We're making it bigger and better, offering you the BEST in todays music!
1 Tib Street, Manchestern M1 1JG